The very things we love about summertime; spending time in the sun, travelling etc, are the same reasons we need to up our exfoliation game. Sunscreen, hot weather, sweaty sleeps, makeup, as well as all that travelling, can leave our skin feeling like it's in need of a really deep clean.
Skipping exfoliation altogether can leave skin feeling dull and congested, and make your favourite Moisturiser or Facial Oil feel less effective, as much of the product absorbs into the dead surface skin cells instead.
How should I exfoliate?
Our Organic Muslin Cloth, or the textured side of our Dual-Effect Sensitive Skin Cloth, used alongside your Cleanser will offer gentle daily buffing.
Our Kukui & Jojoba Bead Brightening Exfoliator is a gentle and effective mechanical exfoliator. The completely spherical jojoba wax beads will buff away dead skin cells and help to remove impurities that have built up on the skin's surface. The beads are suspended in Kukui Oil to moisturise and condition sensitive skin.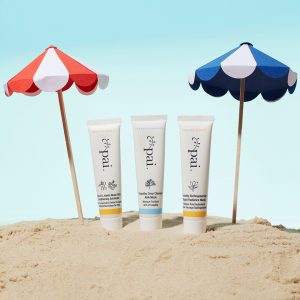 Our Copaiba AHA Mask is another super gentle way of exfoliating & purifying the skin effectively. Mild AHAs derived from Pink Pomelo will brighten and smooth the skin.
After exfoliating, a great tip is to follow with an application of our Rosehip Rapid Radiance Mask to deeply nourish, repair & hydrate the skin.
How often should I exfoliate?
Everyone's skin is different, but as a rule of thumb, we go by this guide:
---