Need a quick, comforting and veggie-packed dinner?
Our friends at Riverford have come to the rescue with this seasonal recipe for Cauliflower & Quinoa Paella with Roast Peppers & Almonds.
Ready in just 30 minutes and vegan-friendly, it features nutty cauliflower and vibrant vitamin-rich red peppers. The perfect supper for a chilly January evening!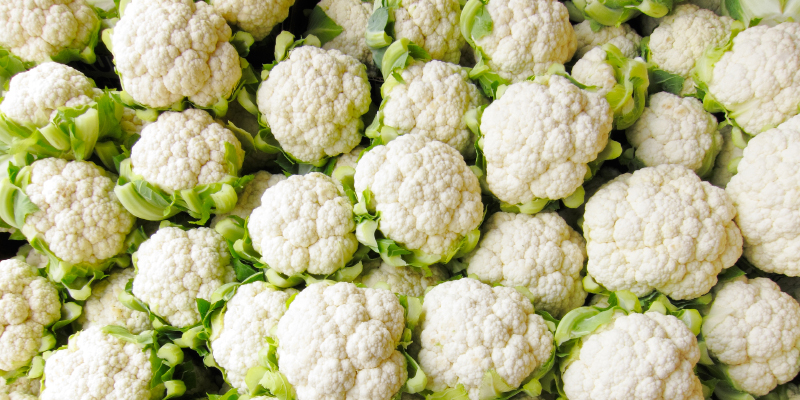 for two servings You'll need:
2 red peppers
30g flaked almonds
1 shallot, peeled and chopped
1 cauliflower, broken into florets
150g quinoa
½ tablespoon smoked paprika
1 pinch of saffron
1 bay leaf
1 garlic clove, peeled and chopped
100g passata
100ml white wine
400ml stock
1 lemon
Small bunch of parsley
How to:
Preheat your oven to 220˚C/Gas 7.
Slice the peppers into large lobes. Rub lightly with oil and place skin-side up on a roasting tray. Transfer to the oven and roast for 15-20 mins, until the skin has blistered.
Meanwhile, toast the almonds in a dry frying pan for 2-3 mins, until golden. Transfer to a plate.
Add the shallot and cauliflower to a frying pan with 2 tbsp oil. Fry for 3-4 mins until they both start to take on a little colour.
Add the quinoa to the frying pan with the paprika, saffron, bay and garlic. Fry for 1 min. Add the passata and white wine. Let the wine bubble away for 1 more min.
Tip in the stock. Simmer gently for 12-15 mins, until everything is tender. Add a dash more water if it looks like drying out.
While the paella cooks, finely zest the lemon. Finely chop the parsley with the lemon zest, adding a pinch of salt as you do so. Roughly chop the almonds.
When the peppers are cooked, remove them from the oven and leave to cool for 5 mins. Pull away the blistered skins. Slice the flesh into strips.
Stir the peppers into the paella, with a squeeze of lemon juice. Taste and adjust with salt, pepper and more lemon juice as needed.
Divide the paella between 2 plates. Garnish with chopped parsley, lemon zest, almonds and a wedge of lemon.
---