Chances are that like me, you're looking forward to heading off on your summer holidays soon!
When I enjoy some downtime with a good book and fun with family and friends, I'm always careful not to let my skincare regime slide.
Leaving your skincare routine on the tarmac as you jet off is especially troublesome for sensitive skin types – who have to battle extra irritating factors like sun, sea and sand.
So, here are my top 5 holiday skincare sins you should avoid making this summer…
1. In-flight dehydration
The re-circulated, dry and filtered air on planes can be seriously dehydrating and can affect your skin for days after if you don't take the right steps.
As soon as you board the plane – drink like a fish (water that is!), as it will help replace the essential moisture lost whilst you're up in the air.
I always carry my Geranium & Thistle Rebalancing Day Cream and Lotus & Orange Blossom BioAffinity Skin Tonic in my hand luggage to re-apply and spritz throughout the flight.
The travel sizes in our Anywhere Essentials Collections are perfect for this!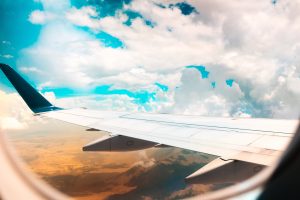 2. Using Face Wipes
They may be convenient, but face wipes are such a no-no for all skin types and especially if you're on the sensitive side.
My advice is to steer well clear of them and invest a minute or two of your holiday each day in cleansing your skin with a detergent and alcohol-free Cream Cleanser. The extra nourishment and hydration will also make your tan last longer and is a lot less damaging for the planet too – so it's a win win!
3. Switching your skincare
We've all been there – you arrive at the airport and realise that you've forgotten to pack all of your toiletries.
Grabbing whatever miniatures are to hand isn't great for difficult skin, as chopping and changing products can really throw your skin off balance.
Again – another reason why our Anywhere Essentials Collections will be a saviour for when you're on the move.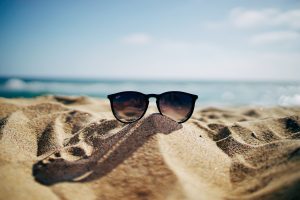 4. Overdoing it in the sun
Turning lobster red on your first day of holiday is no-ones idea of fun and is seriously bad for your skin.
I like to stick to a mineral sunblock to avoid any worries about nano-particles, which you can read more about here, and I always wear a hat to protect the more delicate skin on my face.
5. Forgetting your aftersun care
Aftersun care is just as important as sun protection (find out why here), and it's this stage that's going to make your bronzed skin soft, supple and glowing.
Comfrey & Calendula Calming Body Cream and Rosehip BioRegenerate Oil are my sun-down saviours. 
Add a drop or two of the Oil to the Cream and massage into skin for instant relief and long-lasting hydration.
Bon voyage!
---