Our Christmas collection is all about celebrating the powerful plant extracts – from rosehip to camellia – that go into Pai products. When it came to choosing an artist to work with for the packaging, we wanted to find someone with the same love for these natural treasures as us. So when we discovered London-based illustrator Eleanor Percival, we knew instantly that we'd found our perfect match.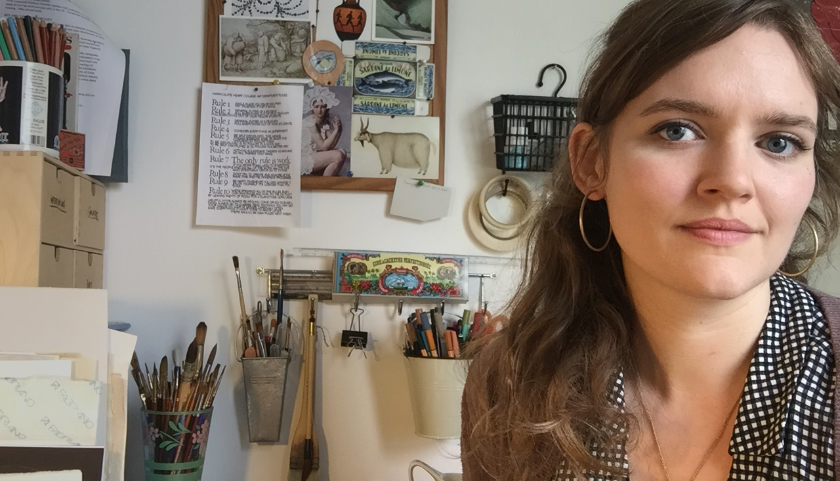 The perfect partnership
"I work in a very cute shed at the back of my garden and I get to look out at the birds and the plants, it's lovely. I've got a big interest in lots of different subjects and I think that informs my work quite a lot. I am obsessed with nature, and I love gardening. My parents were both big gardeners so that's a big interest for me. I think I've always loved drawing plants and flowers, and it's been really fun to get paid to do that, rather than just doing it for myself!"
Instantly inspired
"I loved doing the Rosehip illustrations – I'd never painted them before and they're such beautiful colours and lovely shapes. Doing the Camellias was great as well – I've literally got a white Camellia right outside my window so I get to look at them the whole time."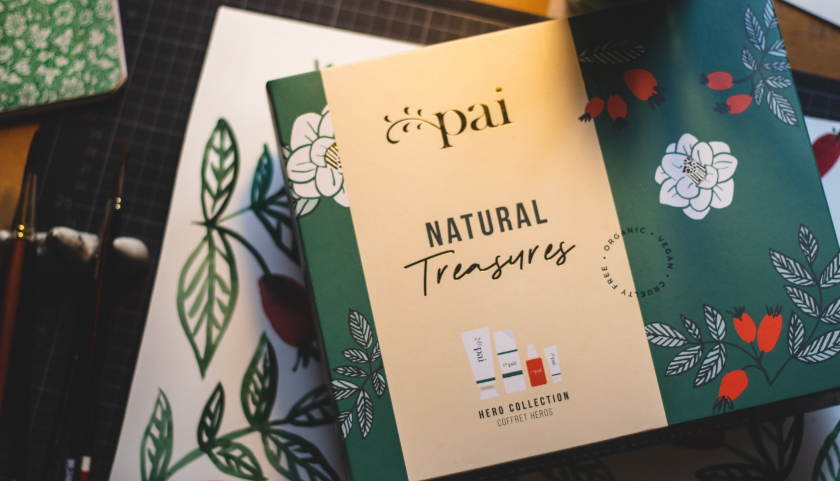 Illustrating the ingredients
"Usually I work in watercolour, that's my favourite medium. But I pretty much use whatever is fitting for the project. For the Rosehip illustrations I tried a few different things; first ink, then I tried watercolour. Actually the sketches that came out best were the ones that I did in coloured pencil.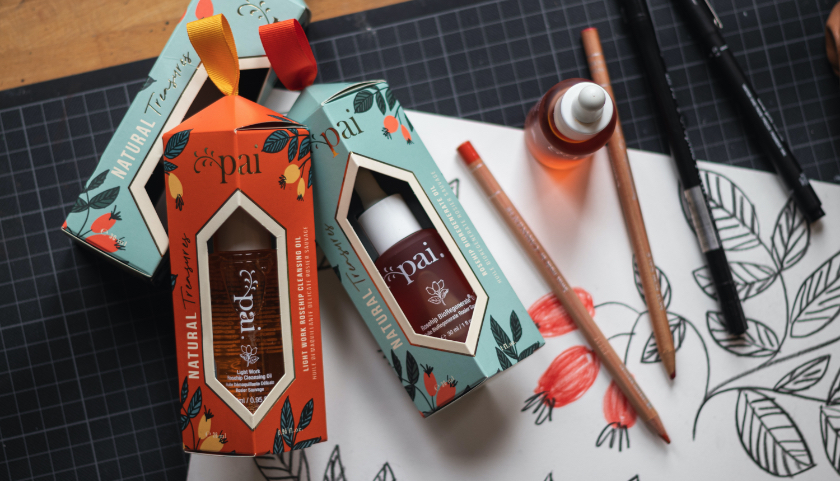 They just had a nice texture to them, and then when I scanned them in and started working with them on the computer, they were the ones where the lines were the most effective, and they looked like the most spontaneous illustrations."
Bringing the designs to life
"Once I'd scanned them in, I worked with the designer at Pai. We tried lots of different colourways and worked out what would work best for these products. And that was really lovely, I love working with colour like that. So that was fantastic."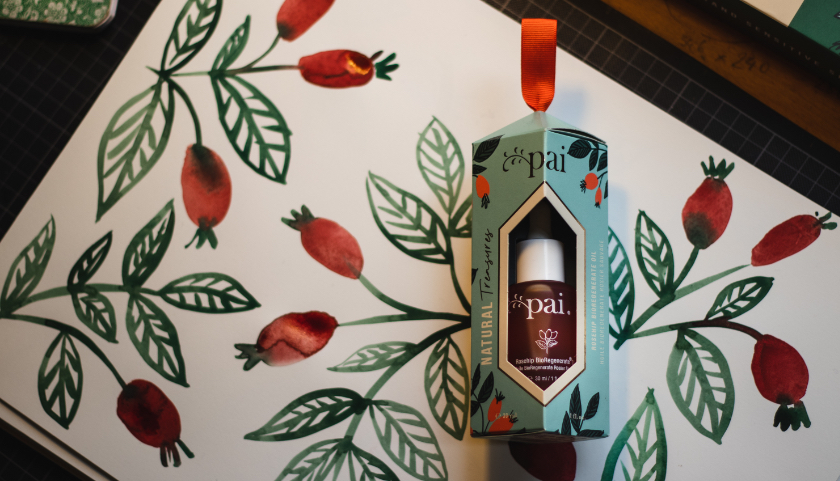 Eleanor's Pai picks
"The Natural Treasures Collection are products that I actually use, so it was nice to think about them in connection to other people discovering them too. The Light Work Rosehip Cleansing Oil is one of my absolute favourites! It's really easy to use but still feels quite luxurious and my god the smell is amazing! It's a brilliant product to use when you're feeling lazy, but you also want something quite special. My other favourite product is the Age Confidence Oil, it feels totally luxurious too!"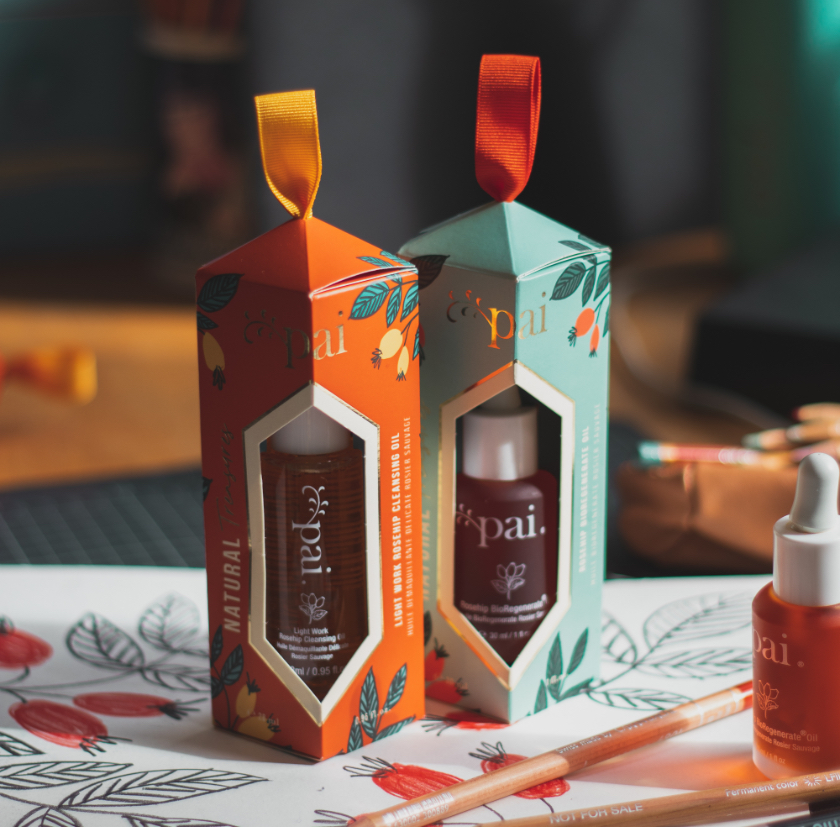 Our Natural Treasures Christmas sets are now available – wrapped-up in gift boxes featuring Eleanor's beautiful illustrations of course. Choose from our full-size Rosehip BioRegenerate Oil, Limited Edition 40ml Light Work Rosehip Cleansing Oil, as well as our full size heros in the Natural Treasures Hero Set. Inside you'll find a full size Rosehip BioRegenerate Oil (30ml), Camellia and Rose Gentle Hydrating Cleanser (200ml) and Chamomile & Rosehip Calming Day Cream (10ml). Shop these Natural Treasures and more skin-saving gifts on our Christmas Gift Guide now.
---