Our Limited Edition Christmas gift sets make the perfect presents for each sign. Each week we'll bring you a typical sign's go-to products and pointers, so you can see just why their In Your Element Kit is so on-point.
First up is Sarah, Pai's Founder and importantly, a Scorpio and Water sign.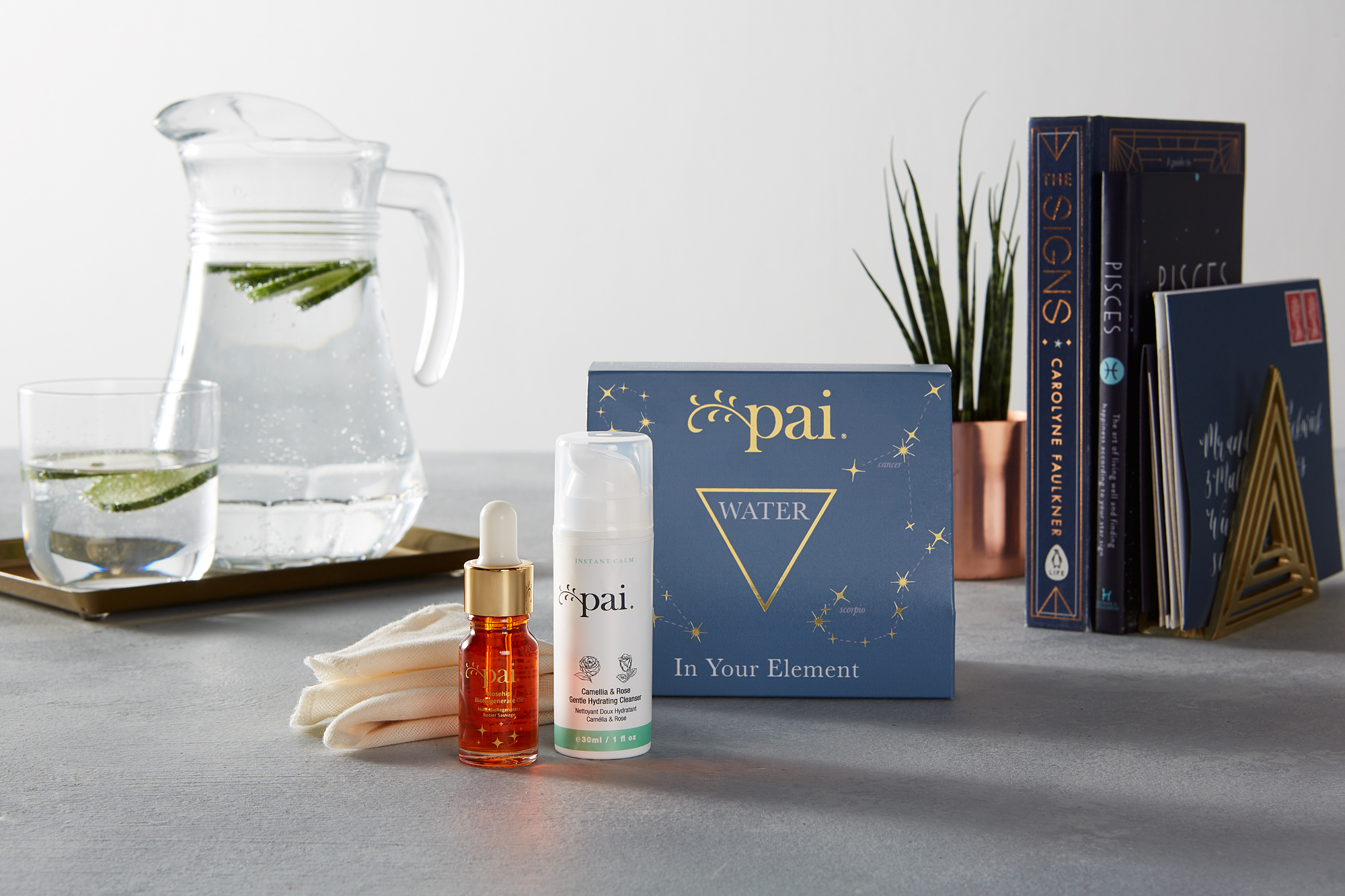 Describe your character in five words…
Driven, Intuitive, Caring and Fun-loving
On morning routines
"I give my face a quick splash of water in the shower and then I use my beloved Geranium & Thistle Rebalancing Day Cream. Occasionally I'll apply a serum underneath, I'm using our Back to Life Serum as it starts to get colder."
On bedtime routines
"I use our Camellia & Rose Gentle Hydrating Cleanser with the soft side of our Dual Effect Cloth. This is a ritual for me and I really take my time to massage the cleansing cream into my skin, including along my lash line to remove eye makeup. I finish with a spritz of the Rice Plant & Rosemary BioAffinity Tonic and 3-4 drops of Rosehip Oil or Age Confidence Oil. I use the latter once per week. I also apply one pump of Echium & Argan Gentle Eye Cream."
On star signs
"I know I'm water sign. And that means I'm quite caring and loyal, which I think is true! I'm a Scorpio and we get a bad rep. But our emotions run deep and we are really committed to our loved ones."
On patience
"I'm quite impatient. I think you have to be as an entrepreneur – continually reaching ahead and never standing still."
On productivity
"At home I'll pop a mask on and go about some cleaning or laundry for 10 minutes. I wash my hair once a week only (shock) but rely heavily on dry shampoo. I've found a great all-natural one.  I'll then really take my time on my blow dry and it means I can wear my hair down for at least 3 days before the curl and frizz starts to set in. I have deceptively thick hair which is hard to tame."
On what not to buy a Scorpio
"Once I received a pair of hand-knitted gloves with six fingers."
On Christmas shopping
"By the week before Christmas gifts will be 50% bought, but nothing wrapped yet. That all happens Christmas eve."
Which Christmas decoration best personifies you?
"I'm the lights because of my illuminating character (!) and the pièce de résistance."
What is your ultimate Christmas food?
"Christmas dinner with all the trimmings. I can't single anything out because they all go together in perfect harmony."
Favourite Christmas movie?
"Sound of Music. OF COURSE! I know it's not Christmas themed as such but it's always on the telly at Christmas. Quite right too."
Shopping for other star signs? Get to know the Pai staffers for tips on how to nail the right gifts for their signs. 
---